Librans are known for their indecisiveness! Gift them our subscription to receive a surprise plant & pot each month without them having to choose!

Libra is an air zodiac sign so an air-purifying plant would make the perfect gift to boost this element.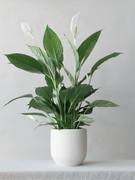 Librans are known for being diplomatic & peace-keepers. So why not pick the stunning Peace Lily in a perfectly-paired pot.

Characterised by a pair of scales, a major Libran personality trait is their desire to achieve balance & symmetry in their life & relationships. An Alocasia duo creates cool asymmetrical symmetry!
Shop Air-Purifying Plants