How to Care for Your New Christmas Tree from Leaf Envy
Caring for a live Christmas tree may require a bit more effort than an artificial one, but the rewards are worth it. By following these care tips, your Christmas tree from Leaf Envy will not only survive but thrive during the holidays, filling your home with beauty and a festive atmosphere. Remember to enjoy the process and the unique experience that comes with having a piece of living nature as the centrepiece of your Christmas decor.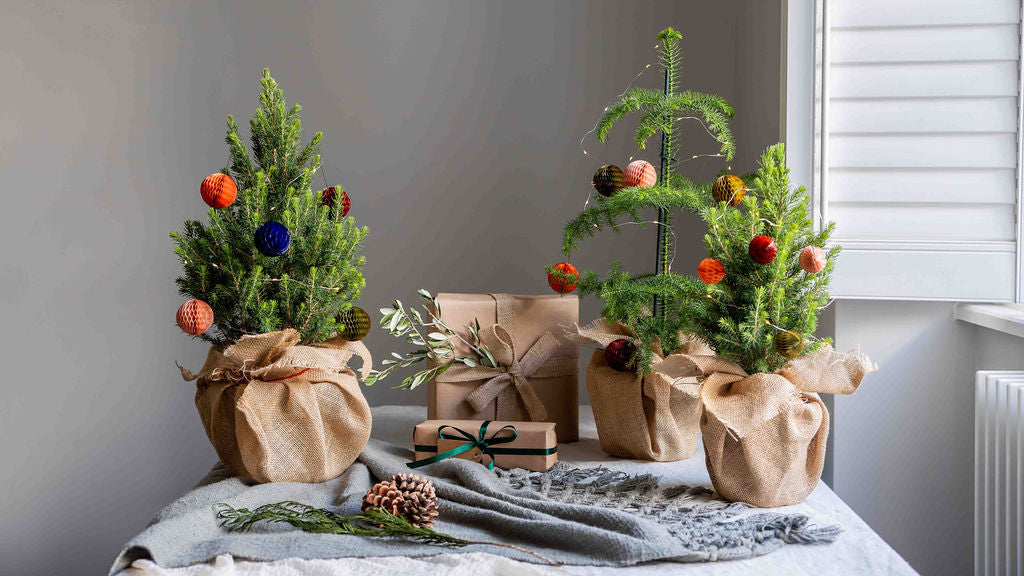 The Ultimate Guide to Nurturing Your Leaf Envy Christmas Tree
As the festive season approaches, many of us look forward to the quintessential Christmas tradition of setting up a beautifully decorated tree. If you've opted for a live tree this year, you're in for a treat! Not only do live trees bring a piece of nature into your home, but they also add that special scent of pine, spruce, or fir that is so closely associated with the holiday spirit. Leaf Envy offers a selection of stunning Christmas trees and a special care product that will help keep your tree healthy and vibrant throughout the season. Here's how you can care for your new Christmas tree from Leaf Envy.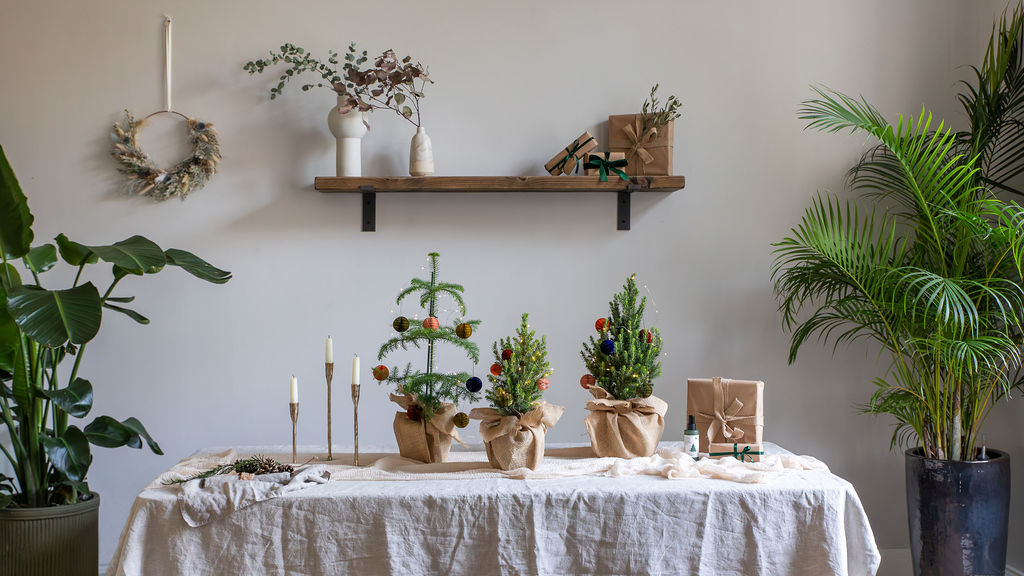 Norfolk Island Pine Christmas Tree
The sustainable & stylish Christmas Tree that will last a lifetime.
Medium Christmas Tree
An evergreen pine that makes the perfect table-top centrepiece over the festive period, after which it can be moved outside in the new year to thrive in the sunshine.
Large Christmas Tree
A large tabletop Christmas Tree with honeycombe baubles & a string of lights!
Christmas Tree Spritz
1
Choosing Your Tree
Leaf Envy provides a variety of tabletop trees to add a touch of Christmas to your home. The Norfolk Island Pine Tree is an excellent choice for those looking for a Scandi-like aesthetic. It's not your traditional Christmas tree but has a charming style and soft, delicate leaves. For those looking for the classic Christmas look, the Medium and Large Christmas Tree are perfect. Each of our cherished Christmas trees is pot-grown with meticulous care, ensuring a robust and healthy tree that's not been cut, offering you a sustainable and living decoration to grace your home this festive season.
2
Setting Up Your Tree
Upon selecting your tree from Leaf Envy, consider its placement with care. Find a spot away from direct heat sources to maintain its lushness. And if you've purchased our decorations bundle, you can now add a personal touch. Assemble the honeycombed baubles provided with string and thread to dangle them beautifully from the branches. Then, weave through the twinkling battery-powered LED lights to create a cozy, festive glow without the worry of nearby outlets or unsightly cords.
3
Watering Your Tree
Water is crucial for the longevity of your pot-grown Christmas tree. For the first week after it has arrived, it will require more water, so check in on it every couple of days and feel the soil. If the soil is moist two inches deep, don't water. But, if it is dry, give it a healthy dose of hydration. After the initial week, monitor the water level every few days to ensure the base of the tree is always covered.
4
Using the Christmas Tree Spritz
To add a touch of extra care, Leaf Envy offers a unique Christmas Tree Spritz. This spritz is designed to provide your tree with the necessary hydration and nutrients to keep the needles green and vibrant. Simply spray it onto the leaves daily, taking care to cover all areas of the tree. They all will appreciate the humidity!
5
Light and Temperature
Your Christmas tree will do best in natural, indirect light. This mimics the dappled sunlight of its natural environment. Also, while it may be tempting to cozy up the room with high temperatures, it's best to keep your tree away from heaters and radiators which will dry out the soil.
6
After Christmas Care
If you've opted for the Norfolk Island Pine, congratulations—you've just gained a year-round houseplant that, with proper care, will continue to grow and bring joy beyond the holiday season. For the traditional Christmas trees, check with your local council for recycling programs that can turn your tree into mulch or wood chips for a sustainable post-holiday cleanup. Or, book a Christmas Tree Collection with our Charity partner JustHelping. If you'd like to keep your potted Christmas Tree, you can! After Christmas, it can be moved outside to a covered terrace or balcony. You can replant it directly in your garden come springtime.