What is Biophilic Design? An interior design trend here to stay
Did you know we spend on average 90% of our time indoors? As we bring in the new year, we reflect on how important being "at one" with nature indoors is to our health and wellbeing, with a focus on biophilic design. The concept of biophilic design is rooted in human nature and our need to reconnect with nature indoors to live a healthier, happier life. Biophilic design has 6 key elements, which we breakdown here for you to adopt in your home interior style.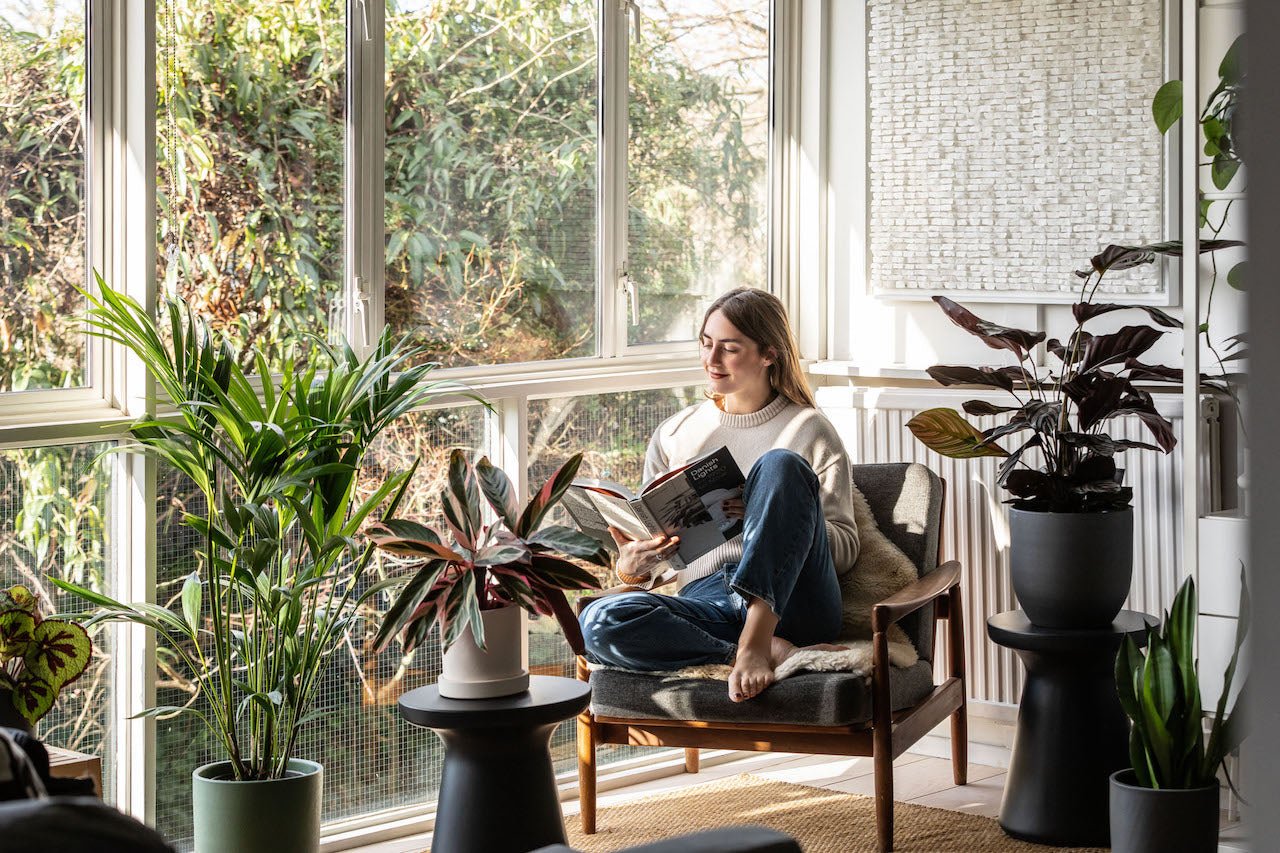 What is Biophilic Design?
Biophilic design comes from the word "biophilia", which means "a love of nature". It recognises the human need, born from thousands of years of living in agrarian settings, to connect with nature indoors to live a healthy and happy life. As 90% of out time is spent indoors and nearly 60% of the world's population now live in major cities, biophilic design is becoming increasingly important for our health and wellbeing as it is a remedy to urbanisation. Biophilic designers aim to create spaces that reduce stress, enhance creativity and balance of mind through the use of natural materials and resources. There are 6 key elements of biophilic design, here's what they are and how you can bring them into your home.
We hope you've enjoyed learning more about biophilic design and make sure to follow these 6 design principles in your home interior style! To discover plant recommendations per room - head to our Roomscapes, where you'll find inspiration for styling your home with nature in the bedroom, bathroom, living room, home office and kitchen.
We spoke with Ben Weymes, Technical Lead at Resi, the UK's leading residential architecture practice, to understand how they incorporate biophilic design practices into their customers home renovation projects.
Thinking about rennovating your home?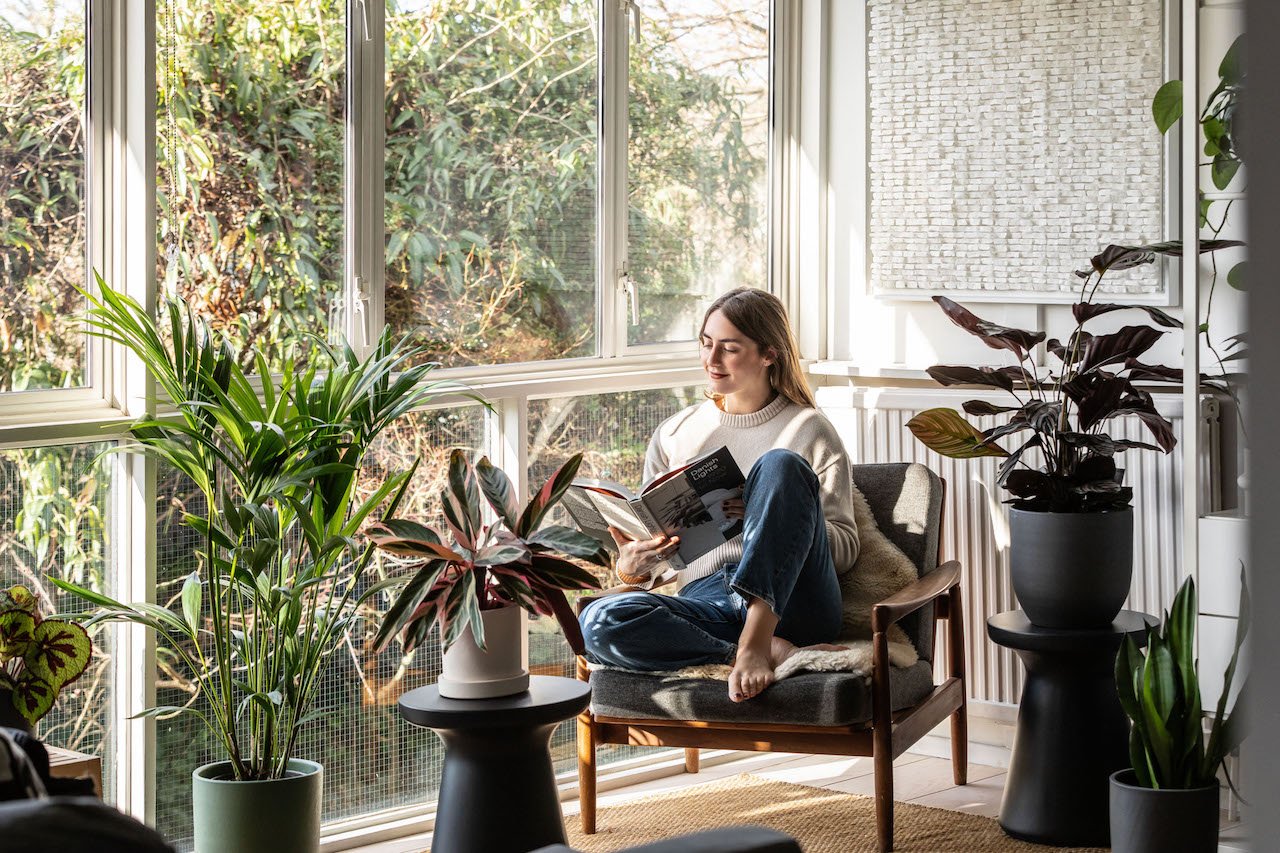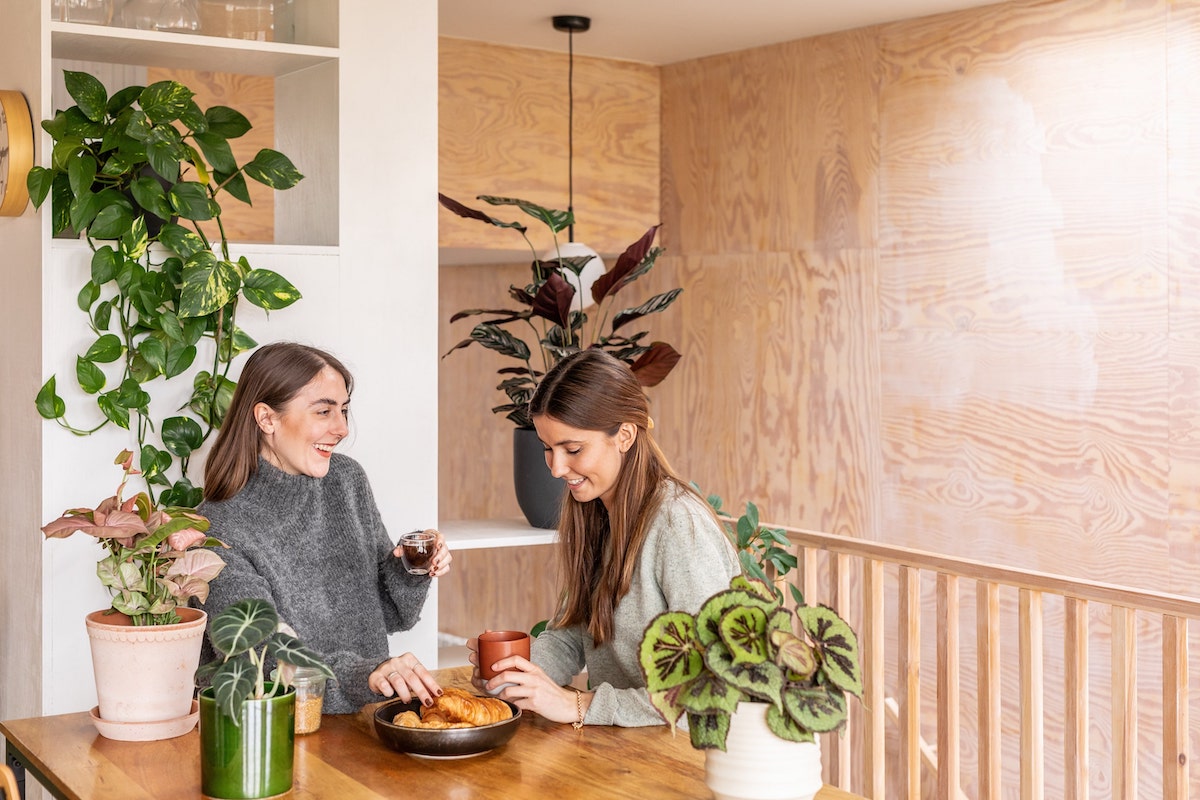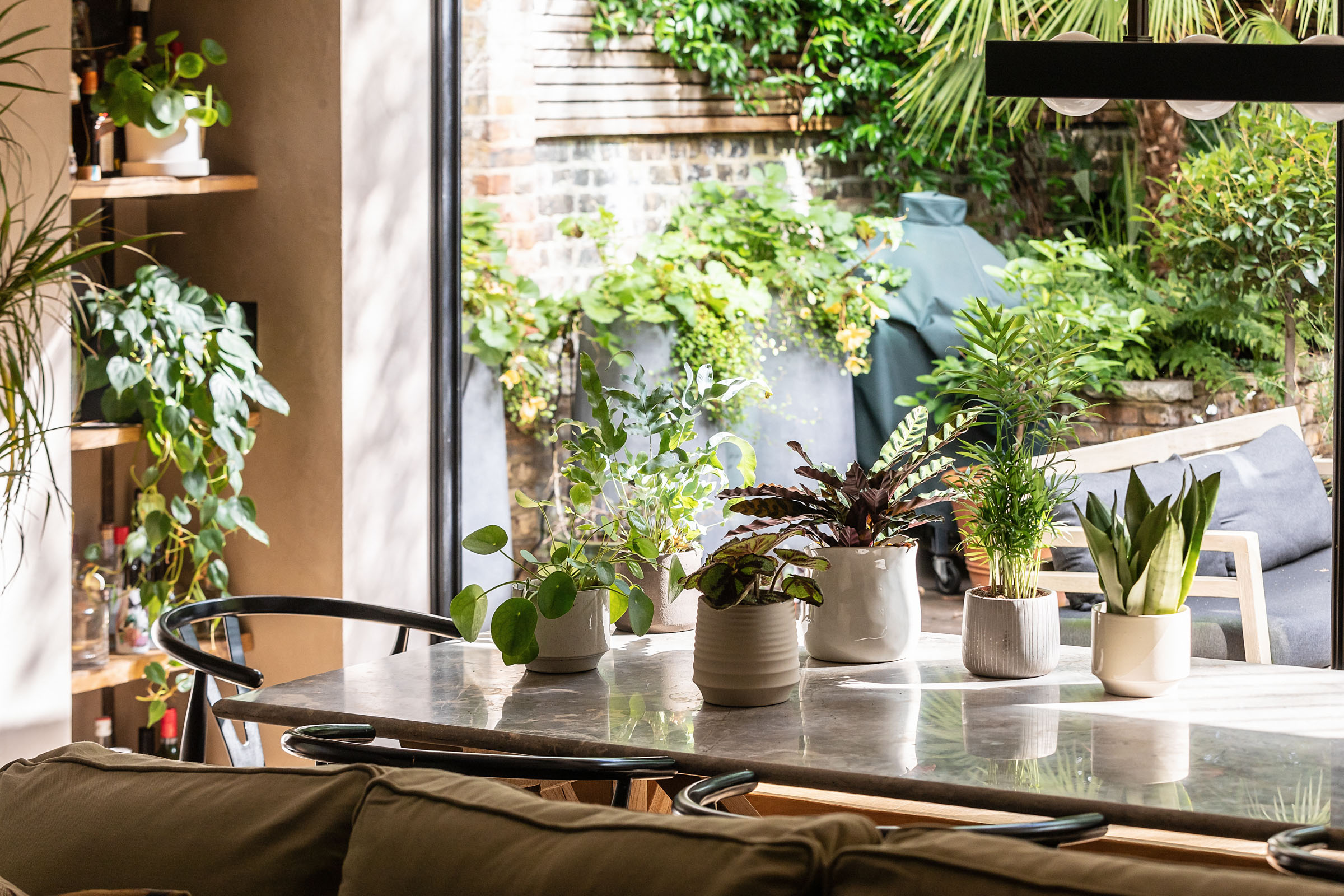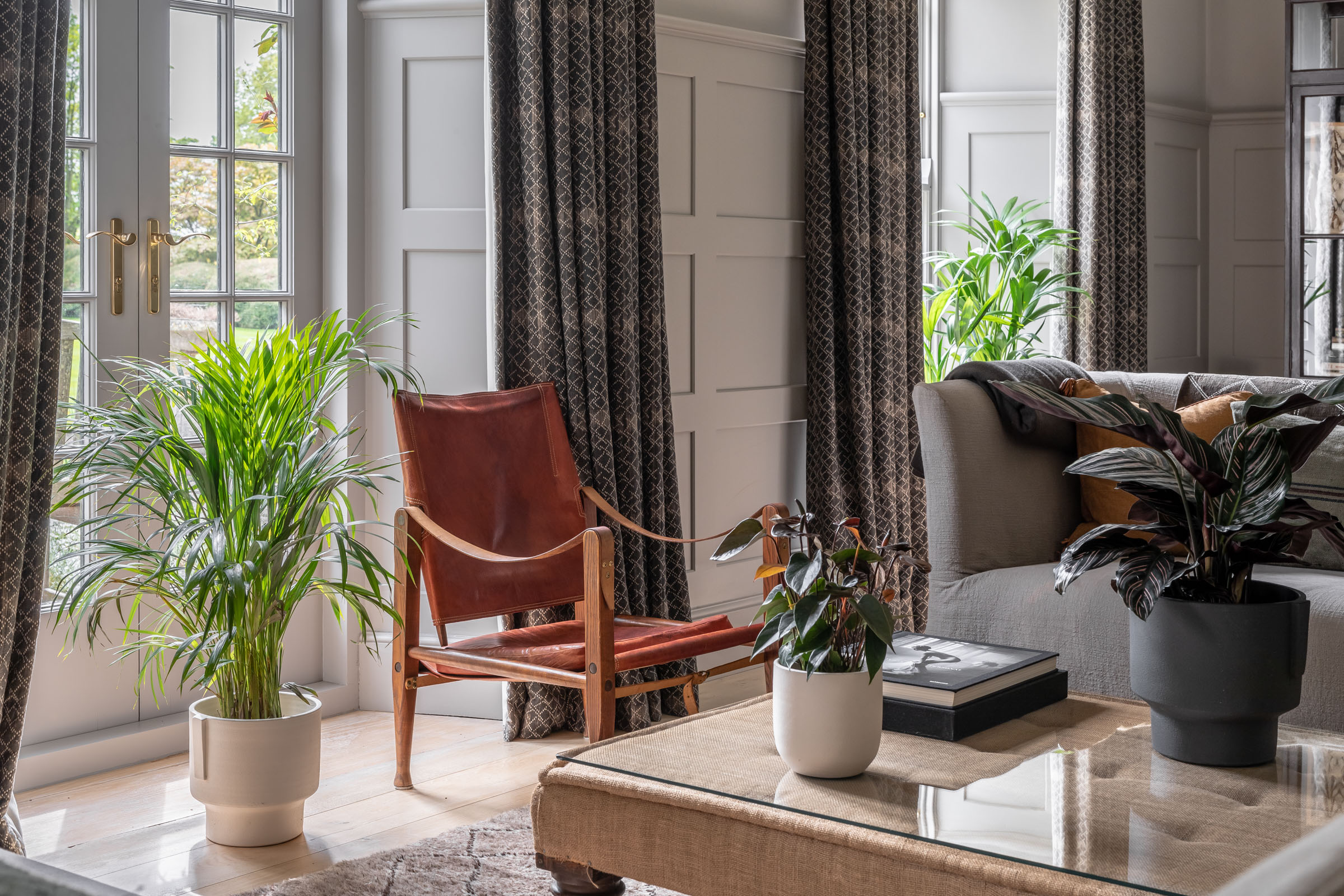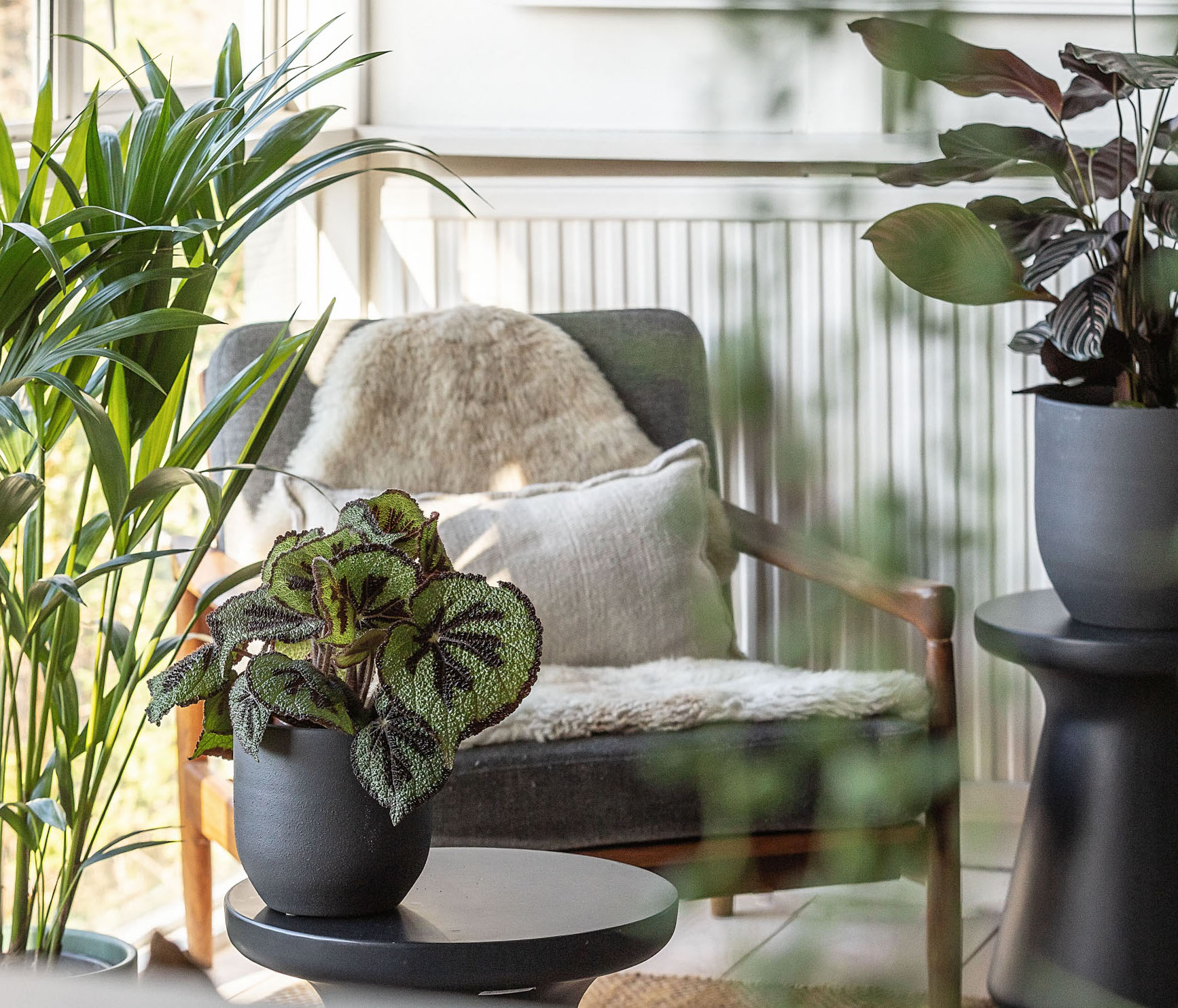 1
Element of biophilic design: house plants
It's no secret that cultivating plants is linked to stress reduction, enhanced creativity and clarity of mind. Just 10 mins a day tending to your plants can have a significant positive effect on your wellbeing. By creating a foliage filled interior, you are in turn mimicking the diversity of a forest or jungle landscape.
2
Element of biophilic design: natural materials
Choose furniture that has organic shapes and materials found in nature. Go for exposed wood or natural stone flooring to keep your interior as raw and pure as possible.
3
Element of biophilic design: natural light
Skylights, glass side return extentions or large windows that can loose blinds? Perhaps think about how you can make curtains with your house plants instead! Let as much natural light in as possible.
4
Element of biophilic design: natural colour palette
Soothing, gentle and calming. These are all feelings that should be evoked in your colour choices. Neutral colour palettes that compliment but don't overpower are good colour choices, or earthy greens to reflect that of the natural landscape.
5
Element of biophilic design: recuperative spaces
Create areas to relax and unwind in your home that act as recuperative spaces and sanctuaries away from our tech-first, urban world. These areas should be tech-free zones and exclude any distractions. Create a plant throne where you can cosy up to a good book or simply meditate.
6
Element of biophilic design: natural vistas
Create your own natural scenic view by using plants on window sills to block sight of your next door neighbours brick wall, or create a plant wall display and use it as a divider to seperate living spaces.
What's the key goal of a renovation?
When renovating your property, the key goal of enhancing the human well-being and inter-connection of its' user's surroundings, can be augmented significantly by introducing flora and fauna in (and around) the main spaces to the home. The process should chiefly be centered around what amount of available daylighting will enter the property throughout the year and any plant life should be selected on the basis of surviving within this solar cycle and the local environment. The building's orientation and its glazing will play a big part in this, and a consultant arboriculturalist (tree specialist) can advise on what plant species' are best adapted to your property.
What should you consider when bringing plants into your home?
It's also essential to consider the maintenance requirements of these elements. Ensure that you have a plan for watering, pruning, and caring for plants, as well as maintaining any water features. Neglecting maintenance can lead to a decline in the health and vitality of the biophilic elements, negatively impacting their effectiveness and aesthetics.
What other advice do you have?
One should also not forget about functionality and usability: While aesthetics and biophilic elements are important, it's crucial not to overlook the functionality and usability of the space. Ensure that the biophilic design elements do not hinder the functionality of the home or impede the flow of movement. Consider the practical aspects of incorporating plants, water features, or natural materials, and ensure that they enhance rather than impede the daily activities and functions within the renovated home.