Best plants by room. Where to put which plants
If you're a devoted plant parent, it can be difficult to know where to put each of your beloved houseplant babies in order to make the most of them and to help optimise their growth. Even if you're new to the world of houseplants, it is most likely a daunting thought trying to decide which plants you want to buy for certain rooms and spaces. We have included a full breakdown of the best plants for each room, according to humidity levels and the mood they will produce.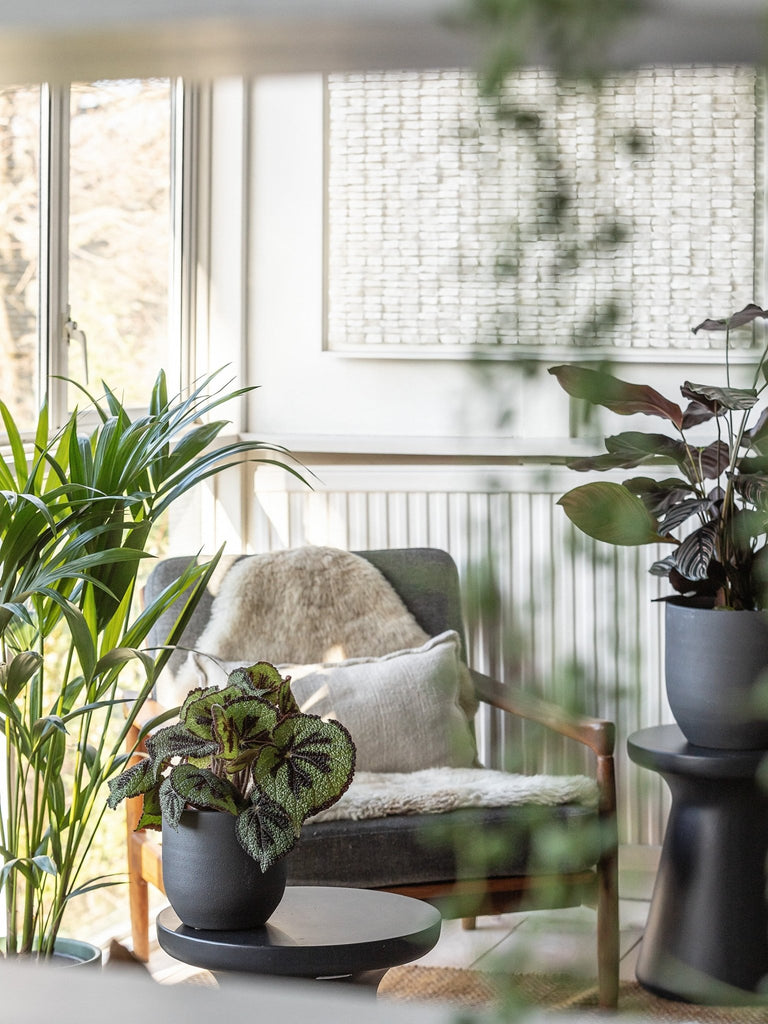 Best Plants by Room
Living Room
Kitchen
Bedroom
Bathroom
Office
Knowing which plants to put in which room can be a difficult task, especially when there are so many variations and species to choose from. The best method for choosing a new leafy friend is by evaluating which rooms in your house or flat have the optimum level of humidity, and whether this means you'll have to mist your plants to add humidity. Here at Leaf Envy, we know what environments different plants are more acclimated to and what they prefer, so we have put together a series of plants which are appropriate for the different rooms you have in your house.
Whether you're looking to add a jungle of plants to your living room space, or you just want to add a few new leafy friends as a focal point, we've got you covered. Certain plants are best for different rooms due to humidity levels and the living room is typically one of the less humid rooms of the house. Thankfully you can add humidity to the plants that need it by frequently misting them or placing them around other plants.
Create a calm environment in your kitchen space with the power of plants. Especially as the kitchen can become quite fast-paced and busy. Kitchens are typically one of the most humid rooms in the house, meaning that your humidity-loving plants can take full advantage of this!
Bedrooms are a place of rest and relaxation, so your plants should reflect this desired atmosphere. Through the use of air-purifying plants, you can create a completely calm and tranquil sanctuary for sleep.
Bathrooms are one of the most humid environments in the house so you can place some humidity-loving plants in there to thrive. A botanical inspired bathroom is a highly sought after interior design trend at the moment, and we are loving it! Certain plants will adore steamy bathrooms so we have put together two of the best plants to place in your bathroom which will create a relaxing and luxurious environment.
Now that WFH is more prevalent than ever, many of you may have your own at home offices. It can be hard to focus on tasks at hand when you're in a home environment, but the power of plants is scientifically proven to boost productivity levels, as well as reduce stress. So, there is no better time than now to utilise these natural productivity boosters to give you a helping hand.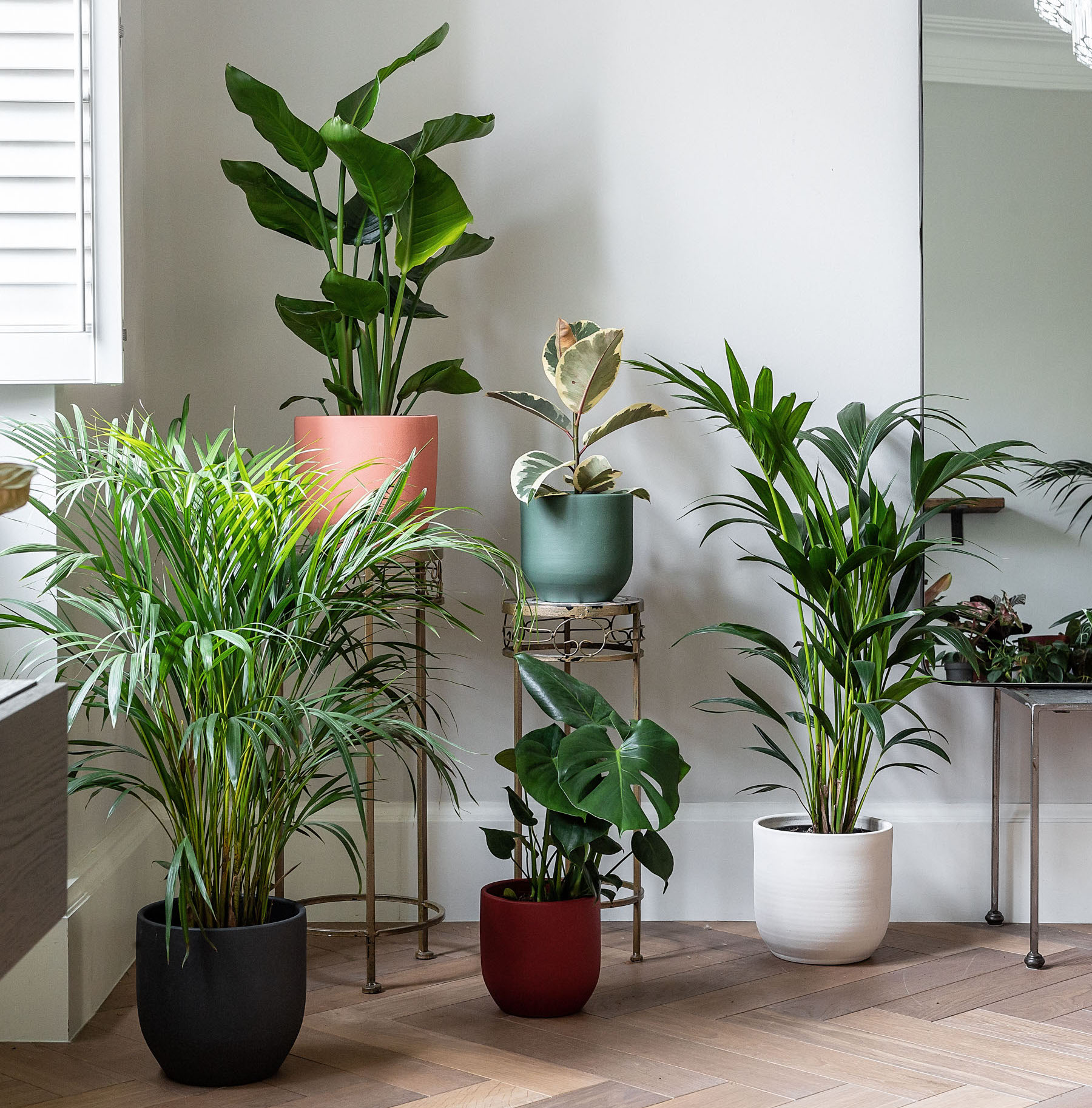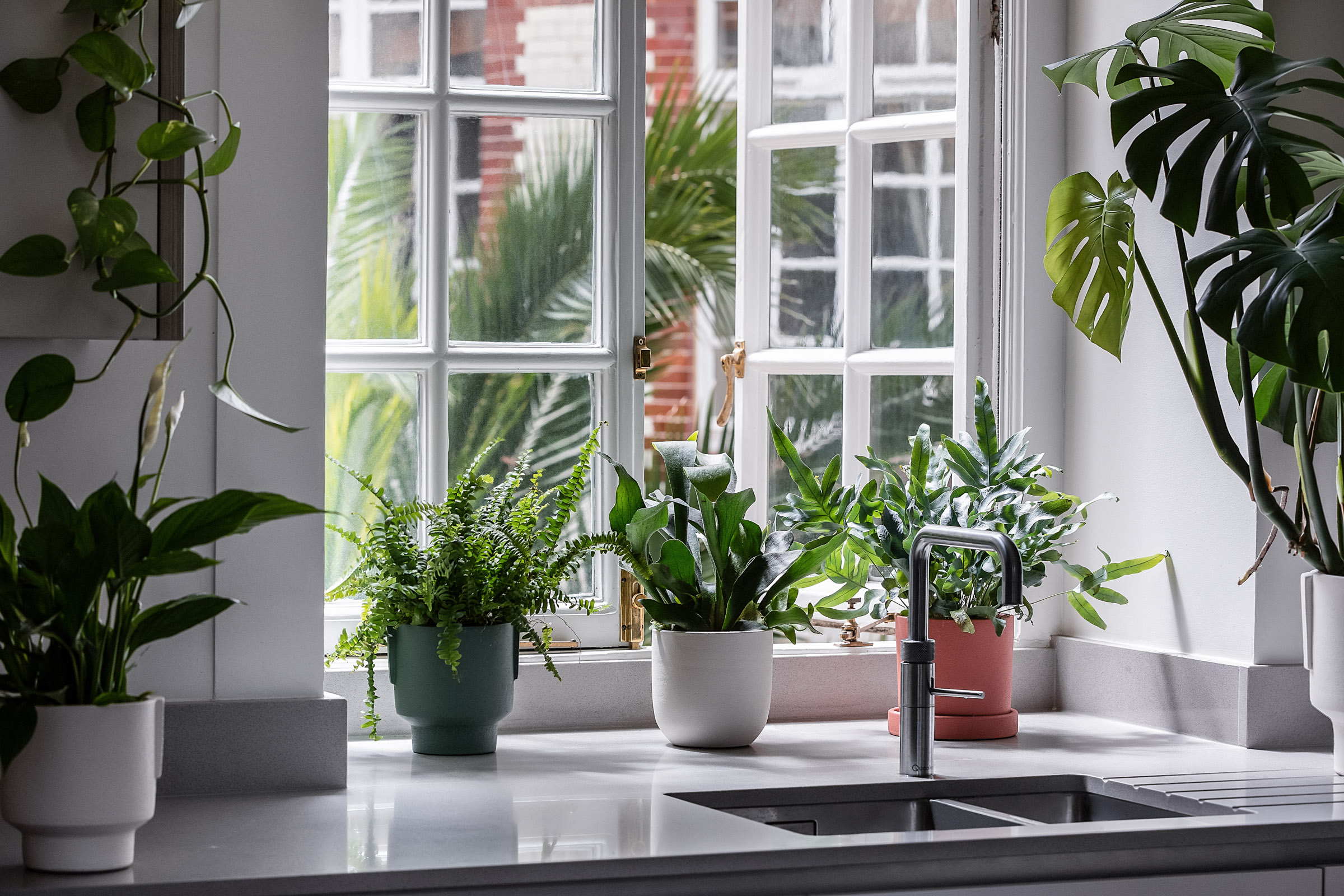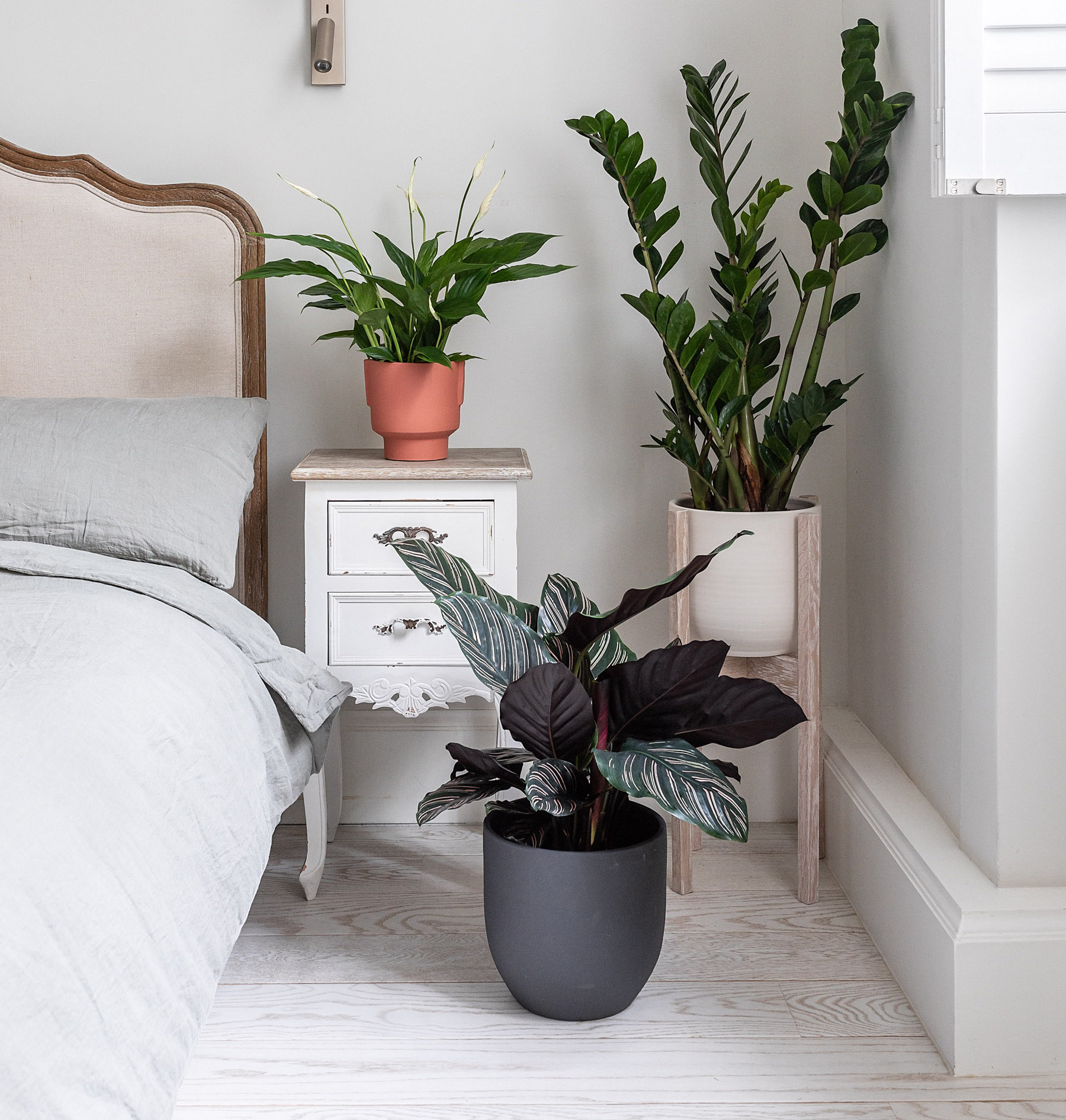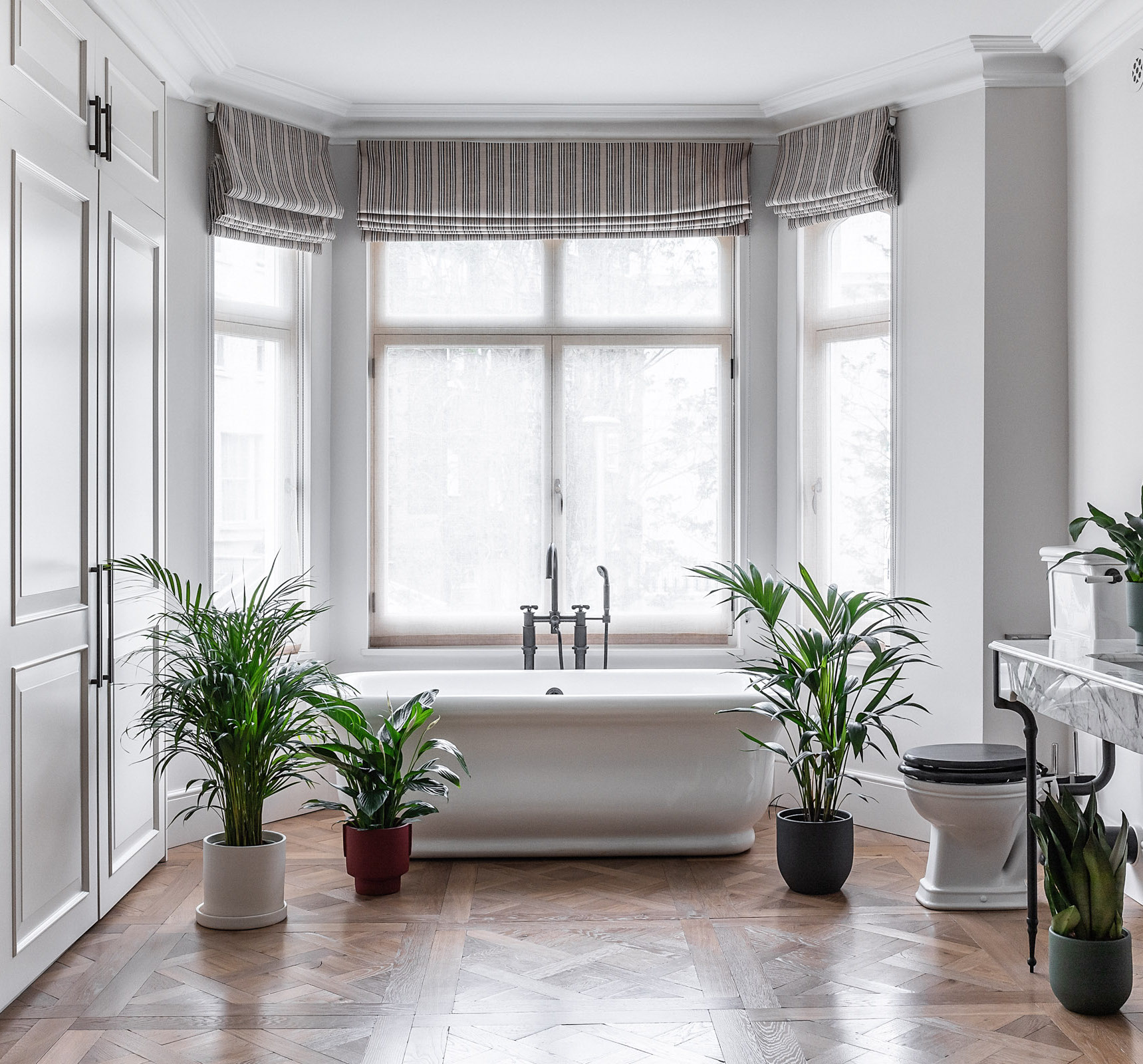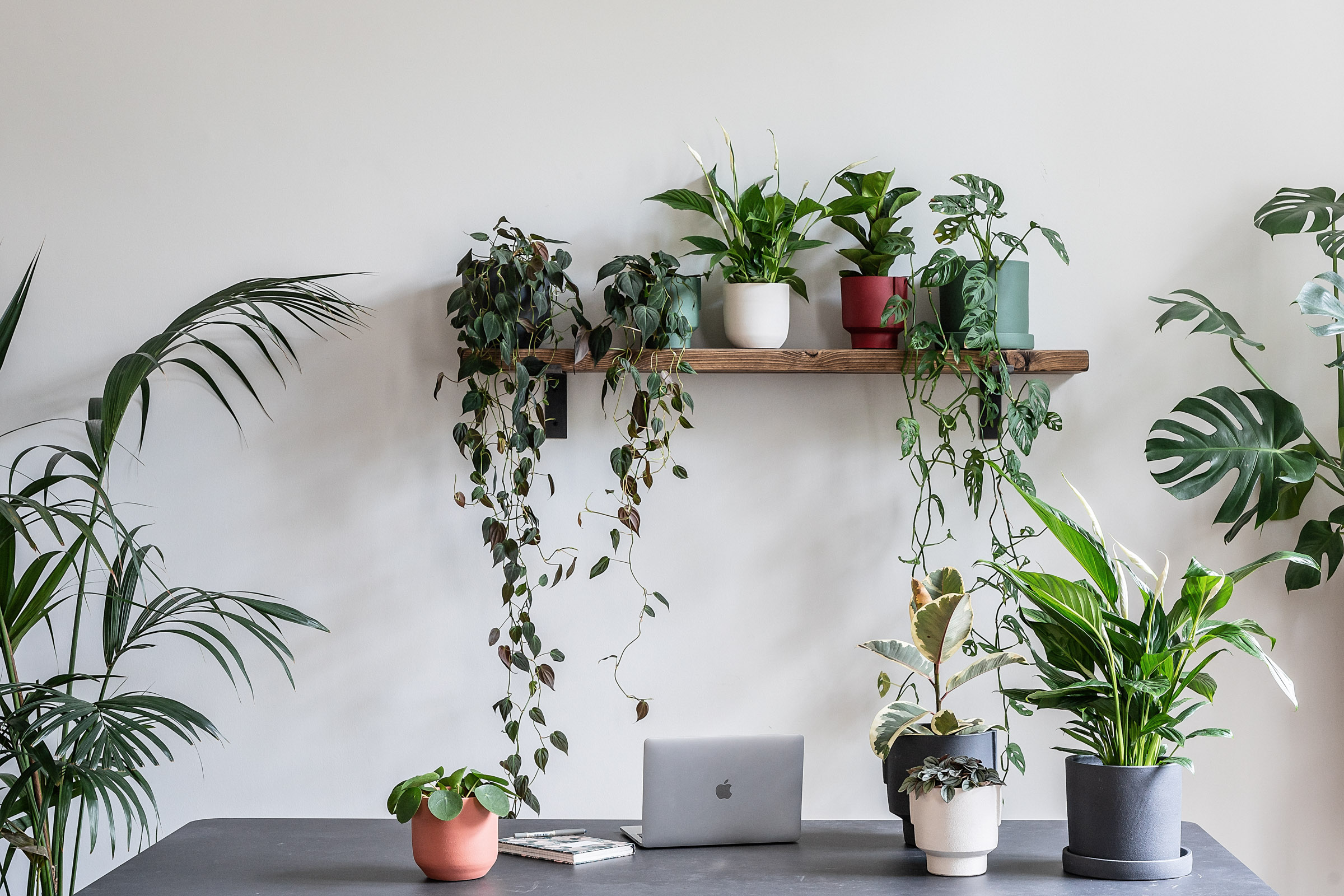 Monstera Deliciosa
The Monstera Deliciosa is the perfect plant if you want an eye-catching centre-piece in your living room. With its uniquely-shaped leaves and exotic origin, any Monstera is a living room essential. They like to be placed in bright, indirect sunlight, so avoid placing it near a south-facing window because it will very quickly become droopy and sad-looking.
Satin Pothos
If you have any shelves in your living room then a trailing Satin Pothos is another plant which is a perfect match. Pothos are able to tolerate low light conditions, however the brighter the light, the more they will grow! This is especially important if you want a lusciously full trailing pothos to catch attention in your space!
Boston Fern
Boston Ferns love high levels of humidity so the kitchen is the perfect place for them. Their luscious, springy leaves can spruce up your kitchen and add a fresh new look to your space. Typically, bright, indirect sunlight is the perfect exposure for the Boston Fern. Combined with the humidity in your kitchen, they will thrive and flourish.
Chinese Money Plant
The flat, round leaves of the Chinese Money Plant are the most eye-catching characteristic of these unique plants. And even better, they will benefit from the high humidity levels of the kitchen; they do not tolerate dry conditions so this is one of the best places for your leafy friend. They are a very easy plant to care for, so don't worry too much if you forget about them; the humidity from the kitchen will help to keep them happy and healthy.
ZZ Plant
Catch some Z's with the idyllic ZZ Plant; its calming waxy leaves provide the perfect silhouette for a corner of the bedroom or even on a bedside table or chest of drawers. One of the most appealing attributes of this plant is its tolerance to low light conditions - it can survive in low to bright indirect sunlight which is perfect for a room which may be slightly darker in terms of light levels.
Snake Plant
Breathe cleaner air with Snake Plants as they have air-purifying qualities which will make them an ideal addition to your bedroom plant collection. This is another easy going plant that requires minimal maintenance and care, so you can rest easy knowing your plant is happy and healthy. All the Snake Plant needs is a fortnightly watering as its soil won't tolerate moist, soggy conditions.
Calathea Amagris
Originating from South American jungles, the Calathea Amagris is another humidity-loving plant that will thrive in bathroom conditions. The soft tones of the light green leaves will create the bathroom aesthetic of dreams to help you relax and rewind in a long, steamy bath or shower.
Hoya Linearis
The needle-shaped, cascading leaves of the Hoya Linearis earns a worthy place in the bathroom, ideally on a shelf where it can be admired. Its eye-catching and unique shape is almost too good to be true… And, it is a very easy going plant so it has few strenuous care requirements. The Hoya Linearis loves the steamy environment so you can pamper in peace knowing your plants are enjoying themselves.
Rubber Plant
The structural simplicity of the Rubber Plant is what makes it the perfect work from home companion. When your work starts to feel stressful, the presence of botanical house plants can help you conquer these feelings. Due to their simplicity and their neatness, the Rubber Plant is even an ideal option for first time plant parents, and they will certainly fulfil your biophilic dream.
Fiddle Leaf Fig
The Fiddle Leaf Fig is a lusciously full house plant with veined, glossy leaves which became widely popular thanks to its Instagram stamp of approval. As we know, working from home can be a strange and unfamiliar experience, but you can create a sense of comfort through the use of house plants in your home office, and the Fiddle Leaf Fig is an air-purifying plant which will boost the levels of oxygen.