Leaf Envy x Edge of Ember Jewellery Collaboration
Catch the conversation between
 Founders Lynette (
Edge of Ember
) and Beth (
Leaf Envy
) on how they 
conceived the idea of a product collaboration that fused EOE's ethical, luxury jewellery with Leaf Envy's botanical inspired leaf designs.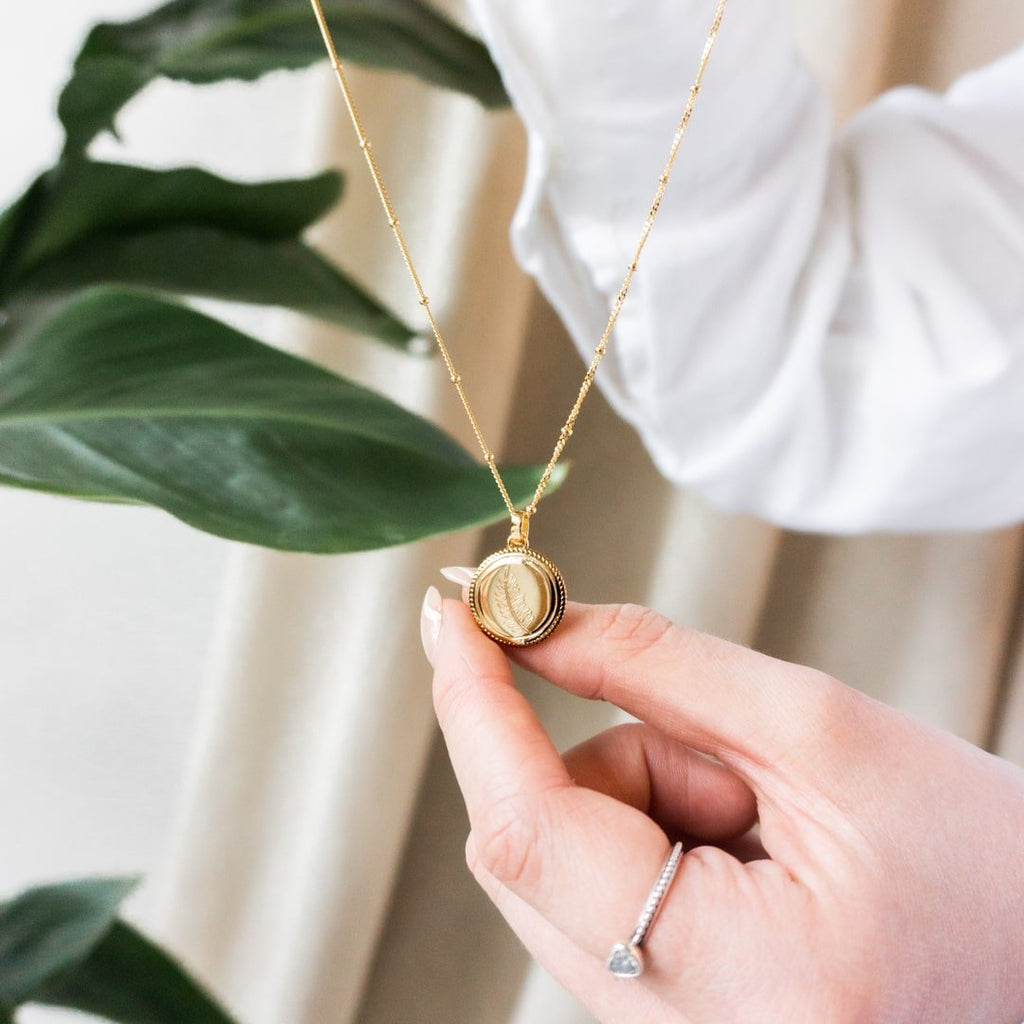 Over the last few months, jewellery designer Steph has been working closely with Leaf Envy founder Beth on a leaf design that encapsulated the chic simplicity of Leaf Envy's brand aesthetic, while creating a piece that is wearable everyday, timeless in essence, yet has symbolic meaning.

After a sampling process and much deliberation between both teams, the "Blue Star Fern'' was finally decided upon as their design inspiration. Ferns signify magic, fascination and sincerity - feelings that remind you to take wonder in the everyday, and pleasure even in what seem the simplest of moments.

We caught up with Founders Lynette and Beth to chat about the inspiration behind their brands & why sustainability is so important to them:
In collaboration with Edge of Ember, we bring you the Leaf Envy Gold Pendant Necklace. Crafted from recycled sterling silver and plated with 18k recycled yellow gold, this limited-edition piece features a dainty chain and a stunning engraving of a fern leaf. Why did we pick a fern leaf? Ferns symbolise fascination and sincerity.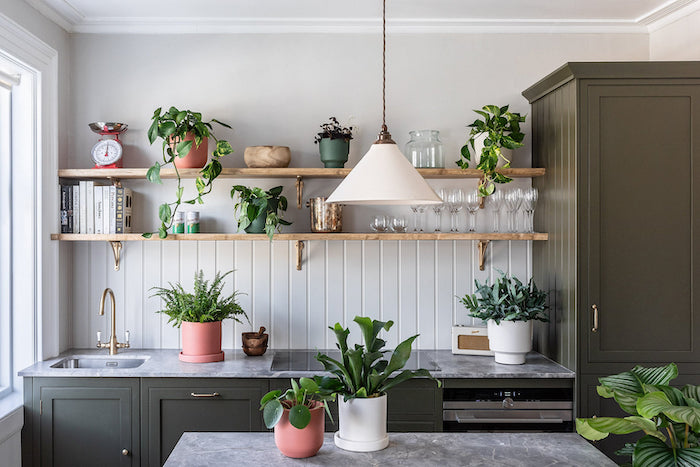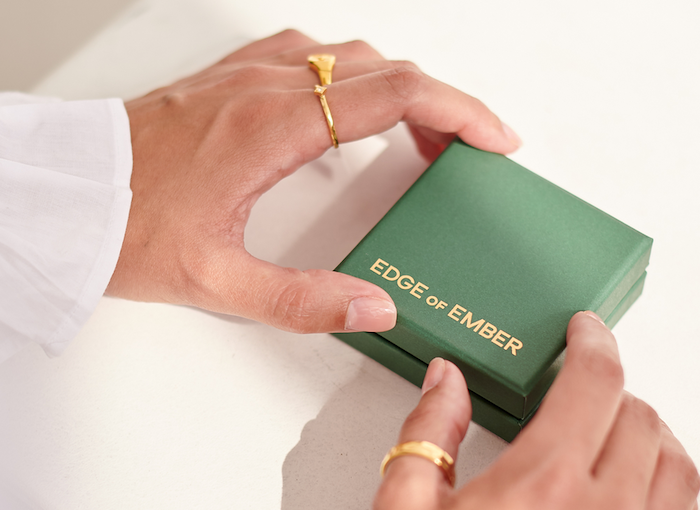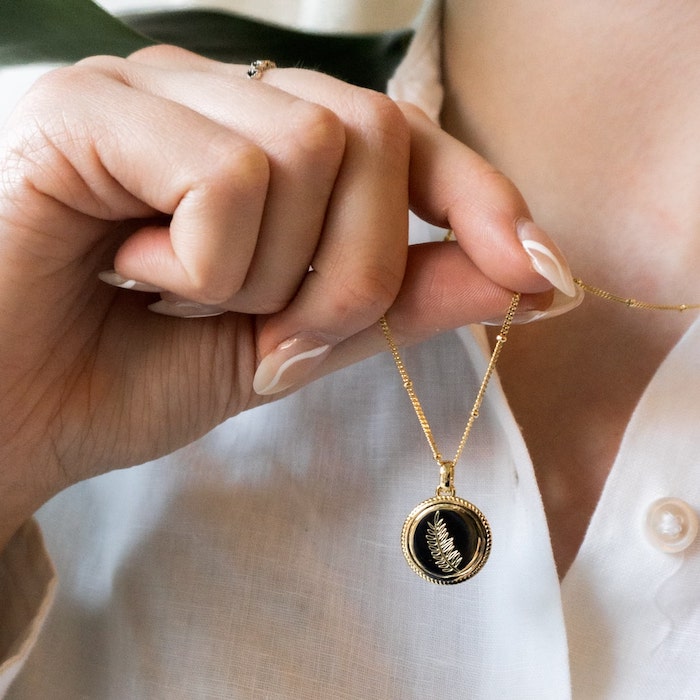 Beth, talk to us about the story behind Leaf Envy, how did it start & why?
I've always been obsessed with interior design and this concept of "Biophilic design" which infuses nature with interiors. Biophilia literally means "love of nature" and recognises our innate desire to connect with plants to live a healthy, happy life. Plants quickly became my biggest interior investment and I started styling indoor plants as art around my home. As my passion grew, I realised how difficult it was to collect and find more unusual species and premium pots, and there wasn't a digital-first plant brand that spoke to my aesthetic as a stylist, nor helped me with plant care and advice. I wanted to become a plant stylist and connoisseur of sorts!

That's why today we work closely with growers and designers to bring you a unique collection of plants and design-led pots, and help you style and care for them in your home.
How is Leaf Envy sustainable and why?
Being green is in our DNA. Everything we do right from packaging to fulfilment to our charity partnerships and beyond have sustainability at our core. We use only 100% recyclable and biodegradable packaging, our deliveries are 100% carbon neutral and we plant a tree for every single order. This year we are looking at ways to recycle plastic pots on behalf of our customers and becoming a B Corporation. Launching initiatives that positively impact our environment is incredibly important to us, and we will continue to strive to better each year.
Lynette, talk to us about the story behind Edge of Ember, how did it start & why?
I created Edge of Ember after travelling around Asia and noticing the abundance of artistry and tradition which has been totally eclipsed by Asia's mega manufacturing landscape. EoE was my reaction to this, with the aim of dismantling the undesirable 'Made in Asia' label that evokes cheap, poor quality, mass produced products and promoting the incredible craftsmen I met on my travels. Now we work closely with a range of small-scale artisan groups across Asia and India, with ethical production and honest social responsibility at the heart of the brand.
How is Edge of Ember sustainable and why is this so important to you?
I've always felt that style choices should never negatively impact communities or the wider world, so from the start I knew sustainability would be a core pillar of the brand. It's such a broad term and used so loosely as a buzzword for many companies, but we continuously look at what we are doing and find ways we can improve within the three areas we have chosen to focus our efforts; people, planet and product. A few major milestones we have reached on our sustainability journey so far have been: working with 100% recycled metals, working exclusively with lab-grown diamonds, launching the UK's first jewellery recycling programme and becoming carbon neutral in 2021. And this is just the beginning!